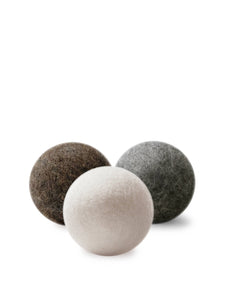 Wool Dryer Balls - Wht, Gry, Brn set of 3 in laundry bag.
Regular price $14.00 Sale
Moss Creek Wool Dryer Balls are Hand Made in Ontario, Canada from 100% Pure Merino and Corriedale wool. We maintain inventory in both USA & Canada for fast, low-cost & duty-free delivery. SELLING TIPS • Like apples, Customers enjoy choosing their own dryer balls when sold in bulk. • Bulk balls are perfect to sell alongside essential oils. • Displaying a lamb alongside them will increase sales. PRODUCT BENEFITS • Softens clothes naturally while reducing static and wrinkles • Reduces drying time and saves electricity • Safe for sensitive skin and babies SPECIFICATIONS: • All-natural wool colours – our wool is never dyed. • Sizes Avg. 7 cm / 2.8" diameter (similar to a tennis ball) • Wt. Avg. 35-40 g per ball depending on colour SUSTAINABLY SOURCED We work with farms where the sheep are raised ethically and the wool is milled locally to minimize our carbon footprint. Our white wool is sourced from ranches in MT & WY, while our colour wools come from the UK & EU.